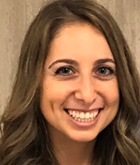 Shayna Lashansky M.A., CCC/SLP is an Illinois licensed speech language pathologist and is nationally certified by the American Speech and Hearing Association (ASHA). She earned both her degrees from the University of Illinois at Urbana-Champaign, including a Bachelor of Science in Speech and Hearing Sciences and Master of Arts in Speech-Language Pathology. Shayna is excited to join the staff at Comprehensive Speech and Language Pathology LLC.
Shayna has experience providing intervention in a variety of settings with individuals of all ages in the areas of articulation, expressive/receptive language, fluency, swallowing, cognitive-communication, augmentative and alternative communication (AAC), and social communication. She currently works at a special education cooperative in early childhood and elementary classrooms. In her current position, she services students with low-incidence and developmental disabilities as a part of a multidisciplinary team. Shayna especially enjoys implementing play-based, naturalistic therapeutic approaches in her therapy sessions.
Shayna's dedication to the field is driven by her personal experiences growing up with a brother with autism spectrum disorder. She enjoys connecting with families and collaborating to best meet their child's individual and changing needs.
Shayna enjoyed her time working at Camp One in a Hundred the past 2 summers. She gained invaluable experience working with children with social pragmatic language disorders, anxiety, attention deficit and autism spectrum disorders to improve their social communication skills.