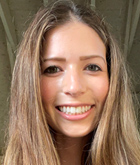 Marci Steinberg, M.S., CCC-SLP is an Illinois licensed speech language pathologist and is nationally certified by the American Speech and Hearing Association (ASHA). She holds an Illinois Professional Educator License is Speech and Language Pathology. She received her bachelor's degree in Health Science from the University of Missouri-Columbia and her master of Communication Science and Disorders at Iona College.
Marci brings to CSLP experience working in the school setting as a speech language pathologist, where she has planned and implemented therapy for students with a variety of disorders including mixed language disorders, developmental delay, ADHD, autism, and articulation disorders.  She has attended IEP meetings where she is reported on her speech and language diagnostic evaluations as well as drafted long term and short term objectives for her students.  Marci has collaborated with other school-based support team members such as school psychologists, social workers, special education teachers and occupational therapists in order to provide a multi-disciplinary approach.
Marci is also joining the multi-disciplinary team at Camp One in a Hundred where she will provide speech and language therapeutic intervention to children focusing on social pragmatic communication skills.