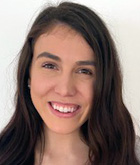 Savannah Hubly, M.A., CF/SLP is an Illinois licensed speech-language pathologist completing her clinical fellowship year. She also holds an Illinois Professional Educator License in Speech-Language Pathology. A Chicago native, Savannah received both her undergraduate and graduate degrees from the University of Illinois at Urbana-Champaign.
Savannah brings a unique background in stress management to our practice. In her previous role as a stress management educator, she provided education and awareness to college students on stress related topics such as: time management, mindfulness, and meditation. Savannah enjoys implementing these strategies into her daily work as a speech-language pathologist.
Currently, Savannah serves as a public school speech-language pathologist in Evanston, Illinois. Savannah provides evidence-based evaluation and treatment to children with a wide variety of communication-based disorders including: Autism, learning disabilities, intellectual disabilities, developmental delays, receptive and expressive language disorders, articulation and phonological impairments, fluency disorders, and pragmatic deficits. As an integral member of a multidisciplinary team, Savannah works collaboratively with student's families, special educators, social workers, vision and hearing teachers, and occupational therapists. Savannah's passion for working with children with Autism and social language differences led her to be a part of Camp One in Hundred this summer!
Outside of school-based services, Savannah has experience with providing transgender adults with voice feminization therapy as well as providing feeding therapy to children with diverse sensory needs.