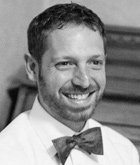 Eric Ross, M.S., CCC/SLP MT/BC is a certified and licensed speech-language pathologist board certified music therapist. He received his B.A. in Music Therapy from Montclair State University, and his M.S. in Speech, Language, and Learning from Northwestern University.
Eric has worked with children with a variety of communication needs from birth through school age. He has provided diagnostic and therapeutic intervention to children in areas of articulation, fluency, childhood apraxia of speech, expressive/receptive language delay, augmentative and alternative communication, cognition, and social language. Through all of his work experiences Eric works through family-based and play-based therapeutic model. With his previous training as a music therapist, Eric seeks to make therapy meaningful to his clients by integrating opportunities for creative creative expression and exploration.
Initially a drama specialist for his first summer with Camp 1 in a 100, the following summer Eric helped develop the camp's cooking program as "Chef Eric" where he provided support and therapeutic intervention to children with social language differences within a summer camp setting.